As the creators of one of the most successful online multiplayer games of all time, the last thing that comes to many people's minds when they think of Riot Games is music.
---
Setting the stage
With League of Legends entering its tenth competitive year on a monumental high, and the 2019 World Championship finals peaking at 44 million concurrent viewers across numerous streaming platforms and languages, League of Legends as an esport is the crowning glory of what began as a small independent game developer operating as the brainchild of two college friends.
Despite being a relatively young face in the global esports market, League of Legends has cemented its brand remarkably well- building player narratives, intercontinental rivalries, and hard-fought struggles to glory, designed to keep its viewers on the edge of their seat for every Baron steal, teamfight and back-door victory.
Professional players across the world dedicate their lives, year after year, for a chance to attend the World Championship tournament, and potentially mark their games against esports history.
---
Why does League of Legends need music?
The World Championship is an event unlike anything else in esports. Where many older esports (such as CS:GO and Starcraft) operate in terms of 'major' and 'minor' tournaments (offering players the chance to compete internationally multiple times a year), League of Legends operates under a unique region-based structure that provides greater weight and gravitas to international tournaments.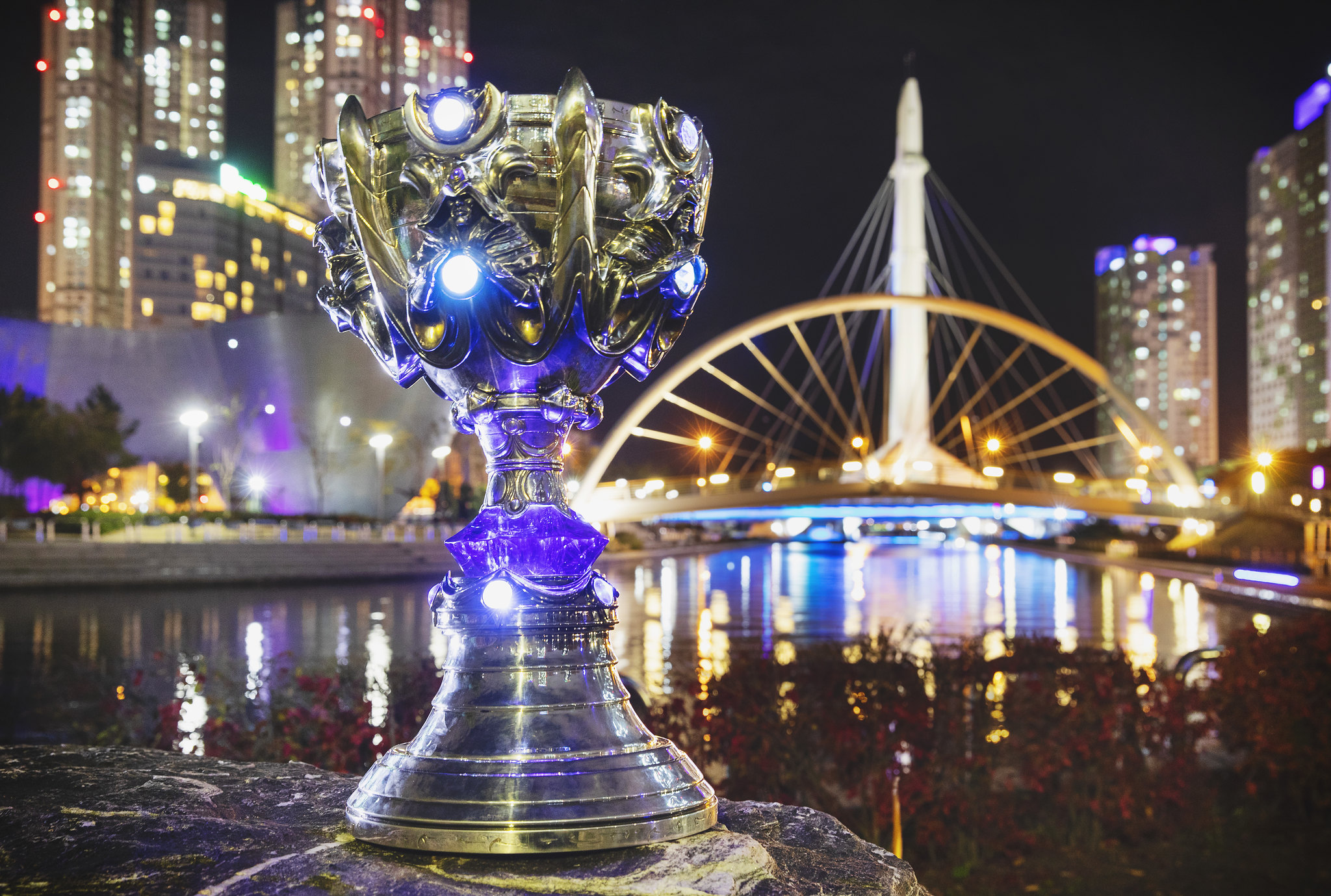 Source: lolesports
Chances for international competition are few and far between, and a player's entire competitive year is spent in the hopes of being able to prove their worth on the world stage- one of a few rare chances to compete outside of year-long regional tournaments. The entirety of a player's competitive year can often boil down to one best-of-five series.
With such a linear progression of competition within League of Legends esports, building hype around key events like the World Championship is a key factor in the sport's continued success.
With no regular sources of international competition, Worlds has to be the most anticipated event of the year in order to keep Riot Games's tournament format afloat.
And what better way to generate hype than with the promise of an anthemic, badass track, complete with game-influenced music video?
This is where Riot Games's music team comes in- and one of the key reasons why music is so important for the continued success of the League of Legends model.
---
Building a Lyrical Narrative
Riot Games's Worlds songs are more than just badass-sounding EDM tracks with a heavy drum beat and some lyrics about winning.
These songs are based around the real events of Worlds tournaments- a fact perhaps best reflected in the featuring of Worlds winners in the acclaimed music videos for said songs.
These videos will often feature specific matchups played by previous winners, blending real life and fantasy world to create an interwoven narrative of player and champion. Lyrics talk of struggle and sacrifice, and the desperate desire to win- universally relatable, but remaining specific to the gaming world.
Their most recent release, the heavy hitting pop ballad "Phoenix", featuring Chrissy Constanza and Cailin Russo, is a nuanced comment on the towering highs and crushing lows of competition, and the toll these swings can take on your mental health.
2018's "Rise", with vocals provided by singer-songwriter Mako and Telle Smith, frontman of metalcore band The Word Alive, talks about the struggle of a rookie to prove themselves in a competitive scene filled with historic names.
Coincidentally, the year Rise was released, the title of World Champion was won by Invictus Gaming, a team with no previous international titles to their name- echoing the song's narrative of rising to glory from nothingness that was originally inspired by 2017's winners Samsung Galaxy.
The soundtrack to Samsung's victory is arguably the most recognisable of the World Championship songs- the powerful vocals of Against the Current's Chrissy Constanza hailing in the end of SKT Telecom T1's reign of dominance in the ironically named "Legends Never Die".
Source: lolesports
---
Music and Mental Health
The success of Riot Games's music comes from it's universal messaging of struggle and perseverance.
'Rise', although written about a professional gamer, can just as readily apply to a young athlete struggling to make their way through the ranks of sporting history.
Higher and higher you chase it
It's deep in your bones, go and take it
This is your moment, now is your time, so
Prove yourself and
Rise, rise
'Phoenix', although discussing the often taboo subject of mental health within esports, and the toll fandom can take on a player, is equally relevant to someone suffering with depression, forced to 'conquer the monster in [your] head' just to get out of bed in the morning.
So are you gonna die today or make it out alive?
You gotta conquer the monster in your head and then you'll fly
Fly, phoenix, fly
It's time for a new empire
Go bury your demons then tear down the ceiling
Phoenix, fly
Not only do Riot create music that resonates with every facet of their Western audiences; with the collaboration of k-pop stars (G)I-DLE and rapper Bobby from Korean boy band iKON, they have expanded their music to a global market.
Source: lolesports
These songs discuss ideas of success, failure and the struggle for glory- ideas that can relate even to their players queuing up for low-ranked solo queue games.
Recent years have seen professional players choosing to be more public about their struggles with mental health- former world champion Heo "PawN" Won-seok announced his retirement in 2019 due to problems with obsessive-compulsive disorder, and two-time world champion Lee "Wolf" Jae-wa has spoken publicly about his battles with anxiety and panic disorders during his two-year reign of dominance on SKT Telecom T1.
For many fans suffering with their own mental health, this outspokenness, in combination with Riot's own inspirational messaging in the form of music, advertising campaigns and collaborations with charitable organisations, is slowly turning the tides on the perception of mental health in the gaming community. All of this, from a simple song.
---
Celebrating History
This begs the question: How is Riot Games really defining video game music, and can the Worlds songs even be considered video game music at all? It could possibly be argued that, without their accompanying music videos, they better fit the category of a motivational sports anthem, considering the sporting event for which they are created.
However, despite their relevance to pretty much any situation of struggle and perseverance, there is something uniquely videogame-esque about the hard-hitting, bass-heavy strains of the majority of the World Championship songs.
With orchestral themes fitting for more traditional videogame soundtrack music found in the instrumental openings to 'Legends Never Die' and 'Warriors', and electronic influences reminiscent of old Dance Dance Revolution songs in 'Ignite', Riot builds on years of gaming history; combining influences and adding a modern twist to create songs that showcase the history of a genre not often appreciated by the public eye.
Not only are Riot Games redefining video game music: they're celebrating it.
---
Header photo: lolesports
---
Leer más
Join us on the official SteelSeries Discord server to find other League players and more.